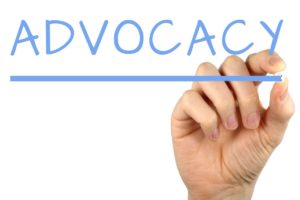 Want to talk with us about this topic? Do you, your staff, or your organization need training in this topic? Want to write a policy, or develop a program?  We are here for you!
Click here to get started!
Check out our full information page for all the info as well as links to the books we discuss!
Happy National Library Week!!! This is our chance to celebrate libraries, and all the wonderful things we do for our communities. In honor of this week, we discuss a topic both scary and exciting: Advocacy.
Joining us is returning Guest Host Jami Trenam, from Great River Library System and is the outgoing Chair of the Minnesota Library Association Legislative Committee.
If you are like many library professionals, you probably lean toward introversion rather than being an extroverted party animal; and the idea of needing to be an advocate sounds kind of scary. But advocacy is not just standing on a soapbox, screaming out your ideas. It means making connections with individuals and groups, and sharing ideas with people. It means knowing who is in your community, and reaching out to them to talk about the things you are doing: materials, services, and programs.
Not surprisingly, we are generally a pretty easy sell! People who do not use the library regularly, and even those who do, are often stunned by the range of things we have to offer. You may have seen some of those neat materials and services on our website and social media this week, and hopefully you saw some great ideas on library websites all over the place.
It will be so important for both you and your library to advocate for existence, for success; learning a few basic procedures for advocating will help you to keep things going.
Podcast: Play in new window | Download
Subscribe: Apple Podcasts | Android | RSS | More